Window Cleaning
If you are searching for someone you can trust who only uses the best products and techniques, then you found the right company for you. Whether you need residential or commercial service, you can rely on the licensed, bonded and insured Professionals at EcoCleaning. You will also support a company committed to better our community through environmentally safe products and practices.
You have 3 options available to chose from. Either one comes with your hassle free guarantee.
Basic Package: Your basic window cleaning package includes all window washing in the entire home, or just windows that you specify. (Many choose this package as a maintenance package for 3 or 4 cleanings during the year after the first cleaning)
Deluxe Package: Economic choice for windows that are not that dirty, this package will get the inside and outside of your windows cleaned, basic screen cleaning.
Premium Package: Our best seller. Your premium package includes window washing of the entire house, deep screen washing and sealing, track cleaning, frame cleaning and window sill cleaning.
If you are a senior citizen or our rates are outside your reach, just let us know and we will adjust our fee to fit your budget if it is possible.
As far as commercial window washing service, each job is different and our rate depends on the frequency of service and the level of difficulty.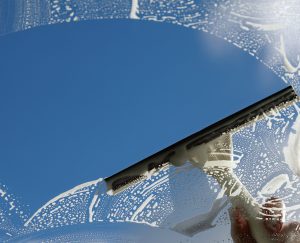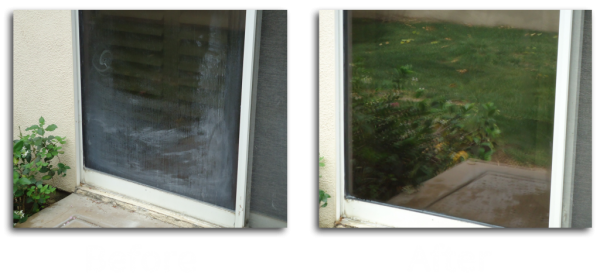 Window Stain Removal
Restore your glass to a crystal clear state
No matter where you live, removing these stubborn spots on our cars and windows on our homes is something that we've all have had to deal with at one time. When hard water dries on glass, the mineral deposits left behind build up to leave stains on the surface. If left for too long, they can even cause permanent damage to your windows.
We use safe, effective methods of removing these mineral stains to restore windows to their original condition
Don't just take our word for it, see the examples we've had. It's much more economical than buying new glass! Let us save you money!